The Tools That Make It Happen: Rhode Island School of Design
The Providence-based Rhode Island School of Design, or RISD ("rizz-dee"), as it's more informally known, is one of the premier design schools in the country. RISD offers 19 majors including undergraduate and graduate programs from ceramics to textiles to illustration.
I had the pleasure of speaking with Industrial Design Department Head, Adam Smith to talk about the machines and tools used in the ID program at RISD.
What are some of the important tools and skills that all students should master?
That's a difficult question because there are so many phases to the design process. The ability to conduct research, formulate a problem and try to answer that problem. At the end of the project you'd look back to that mission statement and the student would have to validate what they're proposing. When companies contact me regarding student internships, they stress communication skills along with the digital skills.
The digital tools change so quickly and evolve throughout the year. However, students are required to learn SolidWorks and Rhino, two software programs that appear to be the most widely-used and taught design programs. From an output perspective – analog tools like rapid prototyping machines, CNC machines, 3D printers, and wax output machines help students realize the 2D designs they create on the computers. Having a balance between the two results in a well-rounded education.
What's very important also is the ability to understand materials. Non-digital coursework, in which students work with different materials and gain an understanding of the properties of wood, metal, etc.
To read the full interview with Adam Smith via Design Milk, click here.
5 Amazing Tech Breakthroughs First Seen in Movies
From Metropolis to 2001 Space Odyssey tothe latest James Bond adventure, technology and cinema have enjoyed a long love affair, with the movies often anticipating real world developments. Some of today's most cutting edge breakthroughs are helping make the world better, but a few might look familiar to you already. Here are a few of the most intriguing ideas that were first seen on the big screen before they came to life.
Bionic Eyes
The next few years will see tremendous advances in bionic eyes. While the Terminator used his bionic eyes to analyze the environment and hunt down victims, Stanford University scientists have recently developedbionic eye implants for a much more worthwhile purpose: restoring sight to the blind. Using a computer chip similar to those found in mobile phones, a retinal implant at the back of the eye sends electrical signals to nerves in the eye so that they are able to process light again. In one early trial of the bionic eye, one man in Britain was able to make out shapes and light after being sight impaired for more than 20 years.
In another breakthrough project, Monash University researchers have developed a bionic eye that sends signals and images from the eye directly to the brain, skipping the eye altogether. Microchips are implanted directly into the brain, while special glasses with a camera help process the images, sending them straight to the visual cortex.
To see the 4 other pieces of incredible, movie-inspired technologies, click here.
Cooking Stove Converts Heat Into Electricity To Power The Developing World
Over at PSFK, we have long been fans of  BioLite, a company that manufacturers two rather unique cooking stoves.  The two stoves currently operate in conjunction with wood-burning fires and have the unique capability to capture thermal energy and convert it into electricity.  In doing so, the stoves are able to provide electric power to charge phones and run other devices (via a USB connection).
In addition to providing off-the-grid electricity, the stoves massively reduce the amount of smoke that result from cooking fires. This is important for a variety of reasons, one of which is the dangers associated with the smoke output from biomass fueled fires (biomass being more readily abundant than wood in some low-income areas).
The company, which was founded by Jonathan Cedar and Alexander Drummond, was borne out of frustration with the inefficiency of traditional camping stoves that require propane or batteries to operate.  In addition to creating a solution to their problem, they have also created a socially conscious business, one of the aims of which is to use their stoves to alleviate some of the issues tied to poverty.
The company has received a lot of praise for the quality of their product and the righteousness of their mission. In an interview with The New York Times, they said:
Our goal is to sell a million stoves within five years, then we want to become the go-to source for energy solutions in off-grid markets for refrigeration, lighting and clean water. But first, we need to get the stove right, so it delivers the health and economic benefits, and doesn't end up sitting unused in a corner.

To read this article in its original posting, click here.
Future Car Technologies For Your Road Trip in 2020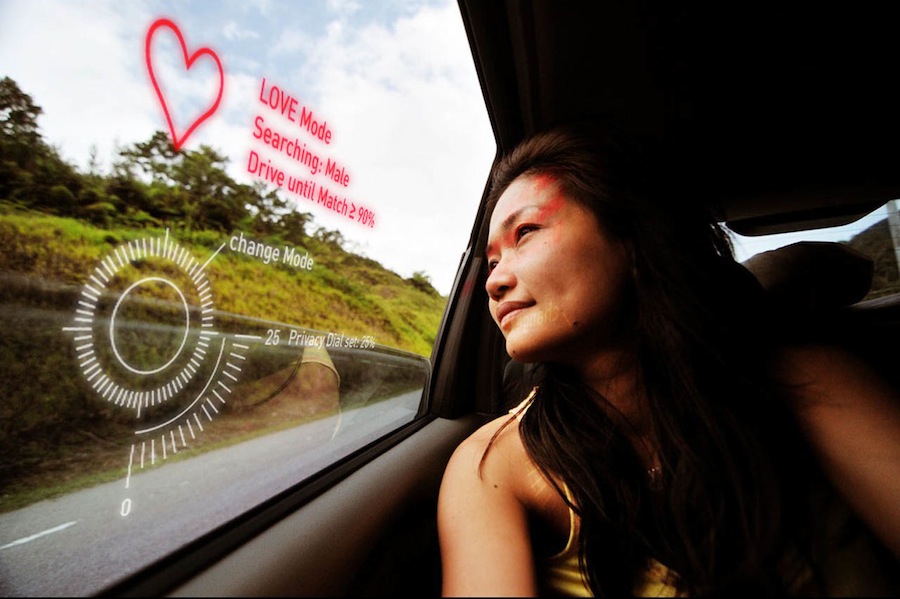 Comparing the auto industry to the computer industry is like comparing two different generations of technology. We've got super-fast smartphones and iPods streaming Rhapsody in our pockets, but satellite radio and clunky GPS devices attached to our dashboards.
Automakers are aware they're a little behind the times, and by 2020, many are promising dashboard and safety systems as sophisticated as iPads — maybe even more so.
To see the list of car technologies that may be in your car by 2020, click here.
How To Keep Yourself Entertained in the Kitchen
When you're a working stiff, sometimes it just makes sense to get all your cooking done during one long haul, usually on a Sunday when you have plenty of time. But if you don't have that perfect suburban set-up when you can watch the Food Network while actually cooking, things can get a little boring. While our stews simmer and our onions slowly caramelize, we rely on our laptops to keep us entertained. Here are some of our favorite things to "do" while our hands are busy chopping celery.
To watch this video in its original location click here.
Artists and Technology: Comedian Amy Schloerb Creates Her Own Future
It's no mystery that being an actress/comedian in Los Angeles is hard. Really hard. Sometimes it seems impossible for up and coming artists to find a way to have their voice heard or to even have a shot at showing people what they're made of. Many go on auditions, search for material, try to make connections — but there are two problems with this:
The field is so saturated with other artists also trying the same methods that it's nearly impossible to make a mark.
Even if one does find a job, it's often not representing something that they truly believe in and feel speaks who they are as an artist.
But there are some people out there that aren't willing to just wait around for someone to accept them. Enter Amy Schloerb, an actress/comedian who decided to take matters into her own hands and with the use of various technologies and social networking, was able to create her own series SchloerBITS. With the use of merely her computer and a few simple programs, she was able to create her own series that has allowed her to express her voice as a comedian/actress and help kick-start her career by getting her the attention from audiences and industry professionals.
Amy didn't ask for favors or turn to others to make something happen, she merely used her resources, the skills she gathered from honing her craft and the technology around her to help her stand out and start her career in a new and innovative way — she found a way to do it on her own.
To read the full article via ScreenCrave, click here.
What If Microprocessors Never Existed?
Microprocessors are so deeply integrated into our lives, we've pretty much completely stopped noticing them. But they're always there, affecting our lives in some surprising ways. Sure, they're in your smartphone and computer — but also your toaster, your stove, your TV, your car and just about everywhere else. That's because, as processor technology has advanced, making processors that ten years ago would have cost a fortune and be possessed of mind-blowing power are now so cheap and disposable that people shove them into just about anything that needs a "brain" without a second thought.
But what if microprocessors somehow pulled a George Bailey and just…stopped existing? Beyond obvious things, like having to fill out carbon paper forms to get pencils at work and no Internet, how else would they affect your life? What would change? What would become harder? What would become more expensive?
We decided to break out the consequences to the world without the microprocessor, and it's a lot more than just having to actually attend meetings instead of just getting the email update when you pretend to have something else to do. Take a look and see for yourself how different (and difficult) life would be without them…
To read the full article about what life would be like without microprocessors (via Uproxx) click here.
How Designers And Consumers Are Using Technology In The Home To Improve Their Lives
Depending on whose research you read, estimates place the number of devices connected to the web as reaching upwards of 15 billion by the year 2015, which will enable nearly infinite connections between people, their consumer electronics such as smartphones, tablets, PCs and television sets and larger networked systems like power grids and even entire municipalities. While we might not be living in an age of full automation just yet, the development of more sophisticated algorithms, alongside an explosion of sensors to capture data from our surroundings, is imbuing our physical environments with a growing level of intelligence and awareness. This convergence of factors is changing the way we lead our daily lives and making an entirely new set of experiences and interactions possible, particularly within the context of the home
Instant Search and Context

For the full list via PSFK, click here.
The Futurists: Clothing From Milk
During her high school years, German fashion designer and microbiologist Anka Domaske spent a year on a cow farm in Idaho.
Milking cows wasn't exactly her forte. But later, her experience doing so would inspire success.
Along with a small research team at the Fiber Institute at the University of Bremen, Domaske has invented the world's first man-made, industrial-strength fiber using raw milk materials.
From this first innovation, the team has produced a second: organic, chemical-free clothing.
Manufactured through an environmentally friendly process, Domaske's fiber, called Qmilch, is revolutionizing green fashion, or, as she calls it, "conscious clothing."
The fiber is a means to provide lower-cost, sustainable clothing at a time when chemical-based production of products, including clothing, has come under scrutiny.
Qmilch clothing is anti-allergy, antibacterial and, as an added bonus, helps prevent aging in people who wear it.
The protein, casein — a milk byproduct also used in the clothing — contains 18 amino acids, which store nutrients that can soften skin, regulate body temperature and maintain water balance.
As a result, Qmilch has an exceptionally smooth fiber surface that feels much like silk to the touch. It's also biodegradable.
"The textile industry is looking for resource-efficient fiber productions that are economical and ecological without loss of material performance," said Lars Bostan of the Fiber Institute, where the fiber was developed. "So the Qmilch fiber could replace existing fiber materials."
Born in East Germany, 28-year-old Domaske was the great-granddaughter of a milliner and, she says, fashion and design was in her blood. "We didn't have a lot of materials, so we had to make things yourself," she said.
But even as a young girl, Domaske also had a passion for science. At the age of 14, she won the prestigious Youth Research science competition in Germany.
After graduating from high school, Domaske ventured to Tokyo for a six-month stint where she designed her own line of T-shirts. But then, upon returning to Germany, Domaske settled for academia and enrolled in a microbiology program in Bremen. "I thought, one day you have to decide, you can't do both," she said.
But Domaske decided to marry the two, studying microbiology by day and designing clothing by night. "I didn't live typical a college life — I couldn't tell you then what a pub looked like," Domaske said with a laugh.
When she graduated in 2009, Domaske decided to return to fashion. And then she heard about milk fiber.
People have used milk to make clothing since the 1930s, in a chemically treated process that takes up to 60 hours to process, Domaske said. But the oil-based fiber is costly and not eco-friendly.
"We thought, why not take a natural resource like milk and let it be natural by not using any chemicals," said Domaske. "We were quite lucky that we only needed three years to invent the fiber. A lot of luck was involved."
Her team in Bremen, which at the moment includes only six people, researched and developed a process that involves extracting the protein, casein, from milk. The protein is part of the 20 percent of cow's milk that is unfit for human consumption, and is usually discarded as waste.
The casein is then mixed with other ingredients, like zinc and beeswax, heated up and fed through a machine to create the threads.
Currently, Domaske and her team are producing 2 kilograms of fiber per hour. Next year, their goal is to produce 560 tons for an increasingly number of interested clients. The Qmilch fiber costs only €20 per kg ($28 per kg).
Dividing her time among business ventures, the young entrepreneur bounces between the Qmilch lab in Bremen and her clothing line, Mademoiselle Chi Chi (MCC). She uses the thread in her women's line, and plans to launch a similar line for men.
As an alternative to cotton, Qmilch has already garnered interest from the automotive industry for seating fabrics, as well as home textiles such as bedding and furniture, and practical clothing like T-shirts, robes, towels, socks and underwear.
She's also been asked to produce a soft puppet for a premature baby.
"A lot of people ask me if I feel torn over fashion design and science," she said. "And a lot of people would think that I would choose fashion design, but both are my babies," said Domaske. "I've been doing it my whole life."